Are you planning on adopting an African gray parrot, or do you already own one? If so, you may wonder how long your beautiful bird will stick around. Well, you're in luck; these parrots live for a very long time. When well-taken care of, they may even outlive their owners.
Key takeaways
The African gray parrot can live for an average of 23 years in the wild.
In captivity, they can live for over 40 years, with the oldest parrot living for 55 years.
Proper diet and exercise can help prevent obesity, a known killer among captive parrots.
The United Nations has banned the African gray parrots' trade.
You can determine its age by examining the colors of its irises.
Generally, African gray parrots have an average lifespan of about 23 years in the wild. But they can live longer in captivity, with great care; some can live between 40 and 60 years. The oldest bird known to man lived for 55 years.
This article will show how long the African gray parrot can live in captivity and the wild. We'll also show you what can shorten their lifespan and what you can do to improve your partner in crime lifespan . We'll also show you the leading cause of death among African gray parrots.
How Long Do African Gray Parrots Live In The Wild?
The African gray parrot, also called the Congo gray parrot or gray parrot, are Old World parrots belonging to the family Psittacidae. The Psittacus timneh was initially part of the gray parrot subspecies but later elevated to a species.
These parrots thrive in the wild, and when left in the natural environment in equatorial Africa, they can attain an impressive age. Since they're consuming their natural foods, they can live for decades. 
Unfortunately, most don't achieve their maximum lifespan thanks to predation and habitat destruction. But we'll talk more about why they were listed as endangered by the United Nations in the other parts of the article.
In the wild, they can attain an average lifespan of approximately 22.7 years. But some parrots have been known to live longer in the wild.
How Long Do African Gray Parrots Live As Pets?
As expected, this parrot species has the potential to live longer in captivity than in the wild. But this doesn't apply to all African gray parrots. The fact that they're costly means even taking care of them isn't cheap. 
It has resulted in them being mistreated and neglected. Unfortunately, poor husbandry is the leading cause of the premature death of many gray parrots in captivity.
The African gray parrots have an average lifespan of about 45 years in captivity, but they can live for a maximum of 60 years. Some of these birds can live longer, with some documented to have lived over 60 years old.
The mind-blogging fact that they can exceed six decades is probably due to genetics and luck. But in most cases, it will depend on many factors we'll explain below.
How Do Most African Gray Parrots Die?
Despite the ban by the United Nations on gray parrots trade, they are still captured and traded in some exotic pet markets. 256 of the 355 parrot species are included in international trade, and about 30% are almost extinct thanks to the wildlife trade. Plus, the African grays in West and Central Africa are going extinct. 
Therefore, before discussing the factors affecting the African gray parrot's lifespan, we must discuss the leading causes of their deaths. Unfortunately, most of them die while being moved from the wild to the exotic market. 60% of the captured African grays from the wild will pass before sold.
These intelligent birds are usually hunted and trapped thanks to their reliance on a natural salt lick. Unfortunately, in some communities, people use these intelligent birds in traditional medicine, so they are consumed as bush meat.
They're vulnerable to various predators, extreme weather, and diseases in the wild. The eggs and chicks are vulnerable to overgrown vegetation, flooding, predation, and deforestation,other factors affecting the African gray parrot's lifespan in the wild.
Diseases
The Psittacine feather and beak disease are among the most common diseases affecting gray parrots. This viral disease tends to affect young ones more than adults. The PBFD belongs to the Circovirus genus and can attack the claw and beak matrices and the feather follicles of birds.
It causes necrosis, beak, claw, and feather malformation; in the worst-case scenario, it can result in fatality.
In captivity, these parrots are susceptible to non-infectious and infectious diseases. Some of these illnesses include the following:
Aspergillosis
Sarcocytosis psittacosis
Avian bornavirus
PBFD
Habitat Destruction
The main reason the African gray parrots have been listed as endangered is habitat destruction. Destruction of their native habitat thanks to urbanization in equatorial Africa has reduced their population worldwide.
A study conducted in 2015 confirmed that they were declared extinct in Ghana. Their population reduced from 90 to 99% between 1992 and 2015. Therefore, to protect their population, the United Nations banned their trade.
Factors That Can Influence The African Gray Parrots Lifespan
Now that we have established that these parrots can live for up to 6 decades in captivity, we need to find out how to ensure they even exceed 60 years. So if you're wondering what you can do to improve the lifespan of your parrot, please read on.
Like all the other domesticated birds, you must consider what you can do to keep your parrot healthy before adopting this species. Remember, African grays need as much attention, stimulation, and care as other pets, including dogs. After all, they depend on you for their well-being and health.
As a parrot owner, the African gray won't thrive if left in cages for an entire day. Therefore, as a great owner, you must provide high-quality care and love. The cage must be big enough for your pet to feel comfortable. It is best if the cage can accommodate some of its toys and perches.
Remember, you'll be leaving it alone for the better part of the day, so it will need its toys to remain entertained. Some of the critical things that can influence the parrot's life span include:
Diet
Your parrot's diet also plays a leading role in the lifespan of your domesticated parrot. It's the principal place where most parrot owners go wrong. There is a wide range of myths about the diet of your parrots. As such, most owners still believe that they can thrive on seeds only, which is not the case.
In the wild, these parrots consume seeds when they find some, but they're considered frugivorous. Frugivorous species thrive on succulent fruit-like seeds, nuts, shoots, and roots. They're dependent on the nutritional composition of fruits and their abundance.
So it makes sense since fruits have high sugar content; they can supply the parrots in the wild with the needed energy. But in captivity, too much sugar can result in obesity since they are not very active in their cages.
Their favorite fruit in the wild is the palm fruit, and they also consume the plant's tree bark, flowers, snails, and insects. In the wild, they consume anything they find; their supplements include tree bark, flowers, leaves, and some insects they can find with their powerful beaks. The African gray enjoys visiting the fields to feed on our crops.Therefore, what can you feed your African gray parrots in captivity to remain healthy? 
In the past African grays in captivity feed on seeds only. However, a lot has changed over the year.Therefore, the likelihood of your pet living for over 45 years will depend on its diet. Some of the things that you can include in your pet's diet are as follows:
Fruits: even though the wild African grays consume lots of fruit, they're more active than the ones in captivation. Therefore, feeding your parrot a wide range of fruits is a great idea, but you must monitor the number of fruits you feed it. After all, high sugar levels can cause obesity. But unlike the parrots in captivity, the ones in the wild tend to work out more while foraging for food.
Veggies: when it comes to vegetables, the more colorful it is, the better, but make sure you don't forget to give it leafy greens. Some veggies like kale can help with calcium absorption.
High-quality seed mix: the seeds may be too fatty, which means overfeeding them can cause obesity. But that doesn't mean you shouldn't include seeds in their diets. The best option is the sprouting seeds.
High-quality pellets: pellets make exceptional base food for your pet, and they contain huge amounts of micronutrients, minerals, and vitamins. Some parrots only consume pellets, so you have to monitor the quality of these commercial feeds. If your bird only consumes pellets, you may have to feed it supplements to cater to the lack of some minerals in these commercial feeds.
Treats: the African gray parrot loves imitating human beings; therefore, having some treats at hand can be useful when training it. But ensure you don't overfeed them, as it's never a good idea. Some of the best parrot treats include dried fruit, walnut bits, and premade options like the Nutri-Berries.
How Long Can They Stay Without Food?
In captivity, these parrots can stay without food for 2 to 4 days, but under normal circumstances, it is best that they feed daily.  It doesn't mean that you should leave them without food for over 24 hours. Some of the factors that can determine how long they can stay without feeding include:
The activity level and health of the birds
Ambient temperature
The amount of energy your parrot has in reserve.
Therefore, if you find a neglected African gray parrot, you should find out its last meal. If you notice signs of weakness and less movement or excitement from an always active bird, then it might be hungry.
General Care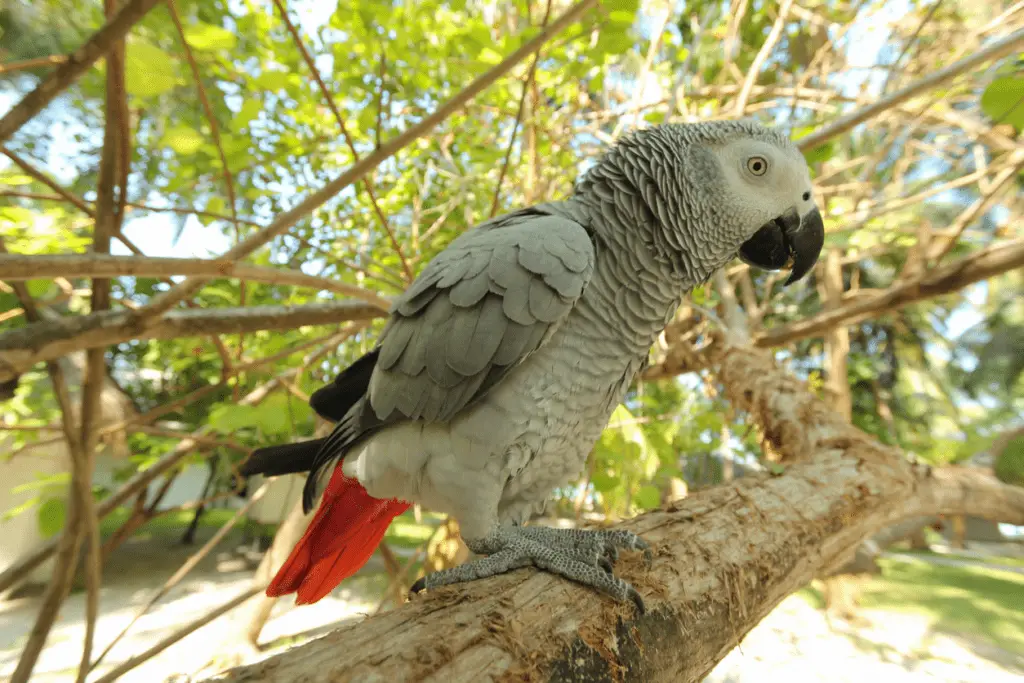 Other than proper diet, several other factors can affect your pet's lifespan. These things can prevent your pet's potential for aging gracefully. Therefore the African gray parrot's lifespan will depend on the following items:
Workout
Obesity is the leading killer of parrots in captivity since it's pretty hard for the owner to notice if they have added weight. And that's because we never weigh them and rarely notice them. To avoid obesity, we must monitor its weight and weigh it regularly. We must also monitor our pet's diets and ensure we give them enough time to work out daily.
Therefore, it is best to purchase a big cage for it to work out and make sure you give it plenty of time outside its cage. You must provide your African gray with plenty of parrot toys to play with when you're not around. You can encourage it to forage for food, especially if the aviary is outside.
The Quality Of Air In Your House
Birds can succumb to low air quality more than human beings. Exposure to some fumes can result in fatality. Therefore, smoking near parrots is a huge no no.. They're also affected by perfumes, wax burners, cleaning products, and aerosol cosmetics.
Therefore,keep your pet in a perfume and smoke-free space. Make sure you clean their dishes using a suitable fragrance-free soap that is non toxic to your parrot. It is best to check with a veterinarian on the best soap to use. 
Stress
Stress affects parrots the same way they affect human beings; in fact, stress can cause other illnesses in birds as it can affect their immunity. The leading source of stress in African parrots is loneliness. 
Remember, they're social creatures; leaving them alone for several hours can cause them anxiety. In some birds, the stress manifests in the bird plucking its feathers, among other issues.
Therefore, when free,  spend more time socializing with your parrot. Basically, spend a minimum of 5 hours with your parrot per day. 
Do not keep your parrot in the same room as another family pet.Keeping them in the same room as the family cat or dog can be stressful for a new parrot. But with time, they can get used to each other, and the stress levels can reduce. You can even try and introduce them to each other.
Bird Safety
Generally, bird safety means more than just protecting it from predators; it includes keeping it away from potential accidents. Therefore, you must consider several factors when creating space for your pet and purchasing the cages and workout gym. 
For instance, can its foot get stuck in the cage or toys? Is it capable of chewing through any cable in its surrounding? Did I leave the windows open before opening the cage's door? A dog or cat can get into the room with an open window and scare your parrot.
Emergencies
Even though we should be mindful of any danger affecting our pets, the curious African gray parrot can still get itself in sticky situations. Therefore, having a blood clotting agent around is always a good idea. You should also have a way of determining if it has a splinter in its beak. But most importantly, ensure you have the number of the avian vet near you.
Lighting And Housing
Inadequate lighting and improper housing are leading causes of early death in parrots. Remember, they're big birds requiring a huge cage to quickly move around. If they live indoors, you'll need a bulb that produces UV-B rays resembling the sun's rays. You won't need UV-B lighting if you let it spend a few hours outside.
The area where you place its cage must be draft free and well-ventilated. Remember, they're foreign to the cold weather. They can't handle cold very well. So placing the cage in a cold place can result in infections and sickness.
The absence of UV-B lights increases the likelihood of your parrot getting hypocalcemia. These conditions can leave your pet susceptible to damaged feathers, secondary infections, and seizures. Fortunately, several bulbs are ideal for parrots, but they can be pretty costly and must be replaced regularly. Remember, if left for a long time, they may lose efficiency.
UV-B lighting is mandatory for the health of your African gray parrot and can play a significant role in the early death of your pet.
What Is The Life Cycle Of The African Gray Parrots?
The African grays are believed to be monogamous, so they provide high parental care to their chicks. Unlike some birds, this species reaches sexual maturity late, meaning it can take about four years to start reproducing.
This parrot nests in a natural cavity between 30 and 100 feet above the ground. They can be found in the tall forests in Africa. They tend to lay a maximum of 5 eggs from April to May, which can be incubated for about 31 days. During this stage, the male will provide the females with food.
After they hatch, these parrots tend to be quite helpless; in fact, the females feed their chicks for a few days while the males bring the food. The chicks take longer to develop and can take up to 5 months before leaving their nests. These birds are always ready to breed in the 3rd or 4th year and form partnerships between March and April.
How Old Is Your African Gray Parrot?
If you have already adopted this species, you must wonder how old it is. Unfortunately, telling the exact age of some species can be quite challenging; plus, guessing the age of a mature African gray parrot is almost impossible by just looking at it. Fortunately, there are several ways you can confirm the age of a parrot. Some of these methods include:
Examine The Color Of The Eyes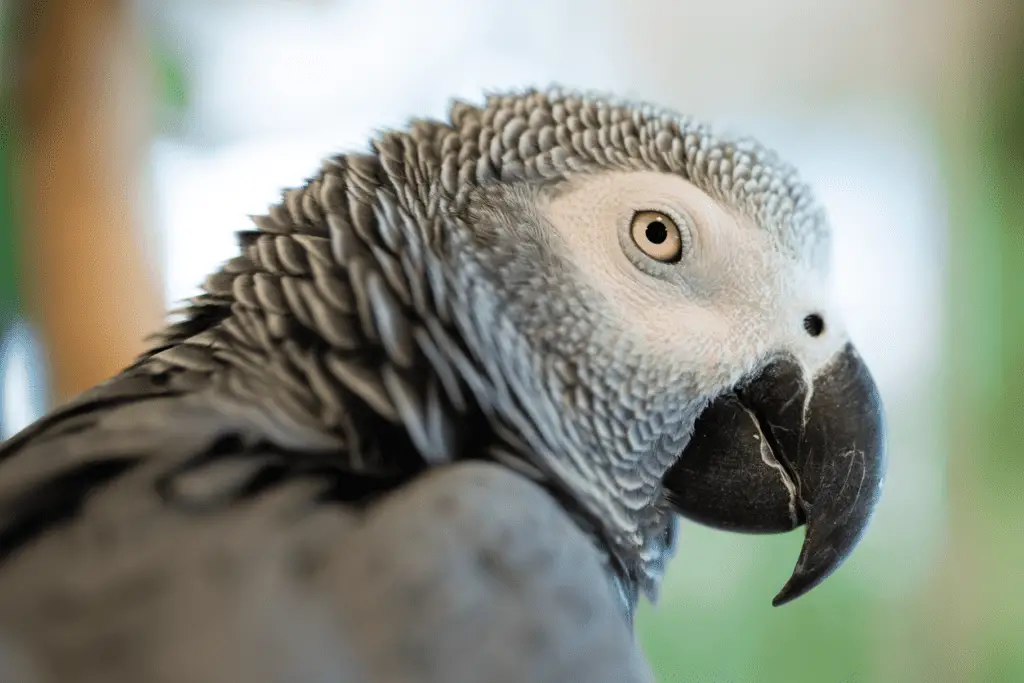 Generally, these birds have little to no difference in color; in fact, using their feathers to tell their age is almost impossible. But the color of their irises differs; the eyes of the adult are light yellowish, while the juveniles have dark ones. If its eyes are black, it is less than a year old.
If the bird is past a year old, its eyes will turn gray, and between 3 and 5 years old, its eyes will turn yellow.
Size
An adult will measure between 12 and 14 inches from its tail to the beak and weigh about 400 and 600 grams. Therefore, any bird smaller than this measurement is considered young, but this method is unreliable; after all, lack of food can result in stunted growth.
If you're unsure of the age, you can always do a DNA test. DNA is a sure test that can give you the exact age of the parrot.
Contact the Breeder
Some birds are ringed, so if you own one, you're in luck. The rings will help you determine the hatch date. But even without the ring, you can still determine its age by contacting the breeder. The breeder has the details of when the bird was hatched and can give you the exact age of your pet.
Conclusion
No parrot can master more sounds than the African gray parrot, including human speech. These birds are one of the most expensive parrots.
The United Nations had to ban the trade of African gray parrots from safeguarding them. But that is not the leading cause of this species being declared endangered.
But it is one of the key reasons why these birds can't live past 23 years in the wild. But in captivity, they can live to the ripe age of 40 and 60. If well taken care of, they can even outlive their owners.