Despite the American Bully's seemingly formidable appearance, the breed is gentle and loving towards people, especially family. No wonder its popularity continues to rise among American dog lovers. However, the American Bully doesn't come cheap.  
The American Bully can cost anywhere from $2,000 to $10,000. However, the asking price can go as high as  $20,000 to $30,000 for high-quality bloodlines from reputable breeders. Adopting an American Bully from a rescue will cost significantly less, setting you back around $200-$800. 
Getting an American Bully should only be done after thoughtful consideration of the initial and lifetime costs. This article will serve as your ultimate guide to the economics of having an American Bully and how you can cut costs while still giving your pet the best quality of life. Keep reading to learn more. 
Average Cost of Buying an American Bully
As previously mentioned, the American Bully doesn't come cheap. It's not just the buying price that costs an arm and a leg, either. The lifetime upkeep of an American Bully also requires some financial sacrifice and budgeting finesse. 
The price range of an American Bully varies depending on size and bloodline. The table below summarizes the cost of American Bullies according to size:
| | | | |
| --- | --- | --- | --- |
| American Bully Size | Measurements | Average Life Span | Estimated Price Range |
| Standard | 16 – 20 inches | 10-12 years | $2,000 – $5,000 |
| Classic | 17-20 inches | 10-12 years | $5,000 -10,000 |
| Pocket | 13-17 inches | 10-12 years | $3,000 – $8,000 |
| Extra Large | 20-30 inches | 12 years | $5,000 – $10,000 |
| High Quality Bloodlines (Exotic) | No Official Size | 10-12 years | $20,000 – $30,000 |
Generally, more muscular and broad-chested American bullies are usually priced the highest. 
I wrote an entire article about the different types of American Bullies, check it out if you are interested in learning more about the different types.
Places To Buy an American Bully Puppy
If the cost of an American Bully hasn't changed your mind about getting one, then allow me to point you in the right direction. It's important to get your pup from reputable breeders to avoid scams. Here are some great breeders to get your Bully from:
Big Mommas Bullies
Venomline
Malvin American Bully
Big Mommas Bullies
This Florida-based breeder ships pups internationally. What sets Big Mommas apart is their being a family-owned and operated kennel. They personally oversee the breeding and rearing of their American Bullies. 
The Bullies are raised indoors and provided a loving environment. Their Bullies are also socialized daily, which makes them more warmly responsive when introduced to new people. This makes them easier to rehome once they're bought. You can reach out to them for more inquiries on their website.
Venomline
This kennel was first based in Texas but now has a branch in South Florida. They pride themselves in their high-quality Bully pups bred only from champion breeding stock. Their pups are priced between $8,000 to $20,000, and they require a $1000 reservation fee. 
Their dogs have been featured in the likes of Rolling Stone Magazine, Bully King Magazine, and Bully Girl Magazine; even making appearances in music videos. Their Bullies have health certifications, complete shots, as well as other pertinent paperwork. 
According to their website, they will soon open a branch in North Carolina. 
Malvin American Bully
This breeder offers only purebreds and ships all over the US and Canada. What sets them apart from the other kennels I've mentioned so far is they offer breeding rights and have a money-back guarantee. Their contact details are available on their website. 
How To Buy a Bully Puppy Safely
With so much money at stake, you want to make sure you avoid falling for scams. Many websites purport to be legitimate breeders and may even show you fake certifications. It's important to be vigilant against such online schemes. Here are some tips on how you can safely buy your Bully pup online:
Start your search on the AKC marketplace.
Expect questions from the breeder.
Request photographs of the dog.
Check the breeder's website.
Be wary of prices below market value.
Ask to see the breeder's registration information.
Request the name and contact details of their vet.
Start Your Search on the AKC Marketplace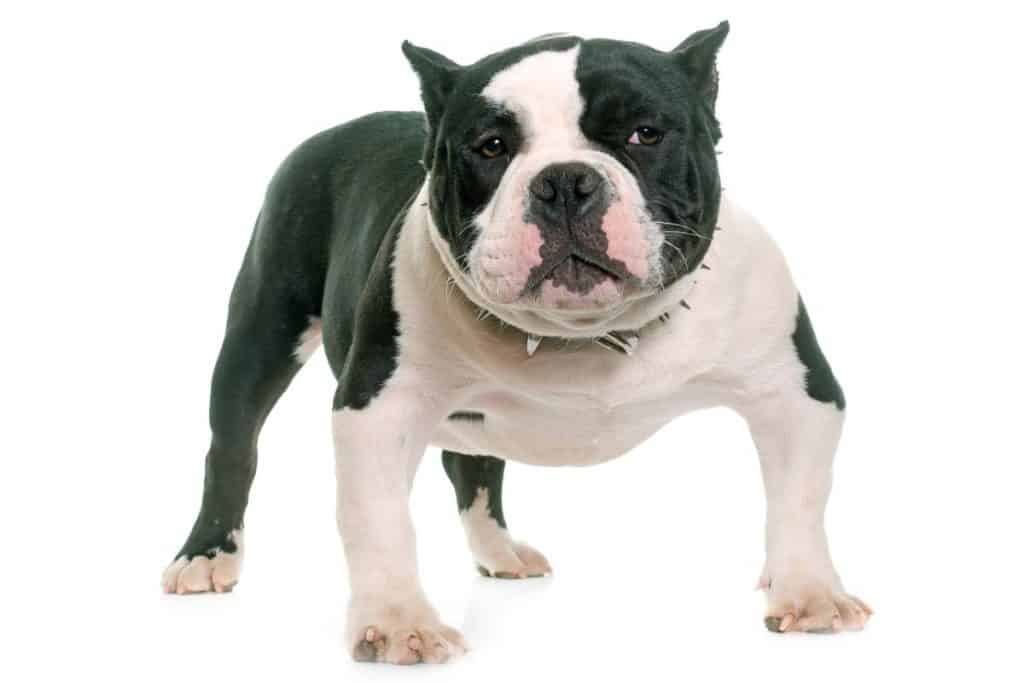 Although the American Bully is not yet a recognized breed by The American Kennel Club (AKC), they're is still a good place to find breeders. The AKC Marketplace is the best place to start your search for your canine companion. 
It's a one-stop shop for trustworthy breeders, groomers, and trainers. If none of the breeders are located in your area, don't worry. There are other ways to verify the legitimacy of breeders in your area. 
Expect Questions From the Breeder
Legitimate breeders care about where their dogs end up. Breeders like Big Mommas, Venomline, and Malvin are owned by true dog lovers who treat their dogs like family until they can rehome them. If you think you're vetting your breeders, legitimate breeders will also be vetting you. 
A professional breeder will ask you questions to the point of being a little intrusive. They will try to assess your emotional and financial readiness for a Bully. They need to vet you as a capable and responsible dog owner. This is all part of the vetting process, indicating that the breeder is a professional who isn't just trying to make a quick buck. 
Request Photographs of the Dog
There are thousands of pictures to grab off the internet, and you will need to verify the legitimacy of the pictures you are being sent. You can ask the breeder you are transacting with for personalized pictures. Such as asking them for several pictures of the pup with a specific toy. Alternatively, you can request a pic with the day's newspaper with the date visible. A professional breeder should have no problem complying with these requests.
Check the Breeder's Website
Websites that use HTTP instead of HTTPS should be avoided. This usually indicates that the website is insecure and may have been set up as part of a scam. You can also check their domain which will tell you when it came live. If the date that the domain became live does not match the date the business was established, it's time to abort communications because there is a high probability that you are being scammed. It's better to be safe than sorry.
Be Wary of Prices Below Market Value
Prices that sound too good to be true probably are. No professional breeder is going to sell you a Bully at a give-away price because that would lead to significant losses for their business. Breeders spend a lot to keep their stock healthy and happy, which is why Bullies are so expensive. So when a breeder sells below the market price, chances are their stock is poorly bred, or they aren't professional breeders at all.
Ask To See the Breeder's Registration Information
Of course, you could always just ask for the breeder's registration information upfront. A registered professional breeder should have no problem producing proof of their legitimacy. If a breeder gives you excuses or acts annoyed when you ask for their information, recognize it for the red flag that it is and move on to other prospective breeders. 
Request the Name and Contact Details of their Vet
It's not impossible to forge registration information, so you go the extra mile to vet the breeder by asking for their vet's name and contact details. Any breeder will have a vet on speed dial the way some people have a specific family doctor. If the breeder you are in communications with refuses to provide their vet's details, then that's probably because they aren't a legit breeder. This means your search is not over. 
Adoption Cost of an American Bully
I've previously mentioned that if American Bullies are being sold below market value, this might be part of a scam. However, the same isn't true for rescues. The cost of adoption is significantly lower. Bear in mind that you're not going to be spoiled for choice in champion breeding stock at an animal shelter. 
You can even expect some rescues to have health issues or some kind of disability. Sadly, American Bullies usually end up in shelters when their owners abandon them over physical defects or health issues. However, if you are willing to make the commitment and sacrifice this entails, then expect to be asked for around $200 to $800. 
That amount covers the cost of vaccinations, certifications, and other essential needs. Some shelters call this a donation as it keeps their doors open to continue the work that they do. In any case, $200 is a bargain for a healthy American Bully. And if your pup has health issues, you can be sure that the $200 goes towards helping the causes of these shelters. 
Places to Adopt an American Bully Puppy
If you're interested in giving a rescue American Bully a permanent home, there are some shelters where you might find your future canine companion. Here are some shelters that are doing great work for rescues:
New York Bully Crew – NYBC is a non-profit rescue that takes Bullies off the streets and saves them from kill shelters. They are truly unsung heroes. Their adoption fee isn't indicated on their website, but you can reach out to them privately to find out. 
California Bully Rescue – CBR is an international Bully rescue that advocates for legislation and policies that save and protect the breed. Their website shows you their adoptable dogs, and you can start the adoption process by filling out an application form, also available on their website. 
Brave Bully Rescue – BBR is a Texas-based non-profit rescue. Adoption fees for younger Bullies hover around $325, while adult Bullies can be adopted for $275. They have some unique adoption policies, including requiring adoptees to be over the age of 25. While a bit extreme, this policy is completely reasonable because it takes a certain level of maturity and responsibility to raise a Bully.
Reasons Why American Bullies Are So Expensive
The American Bully is a special breed. Its distinct appearance and gentle nature make it an ideal companion. While many dogs provide companionship, several factors contribute to the Bully's hefty price tag. They include: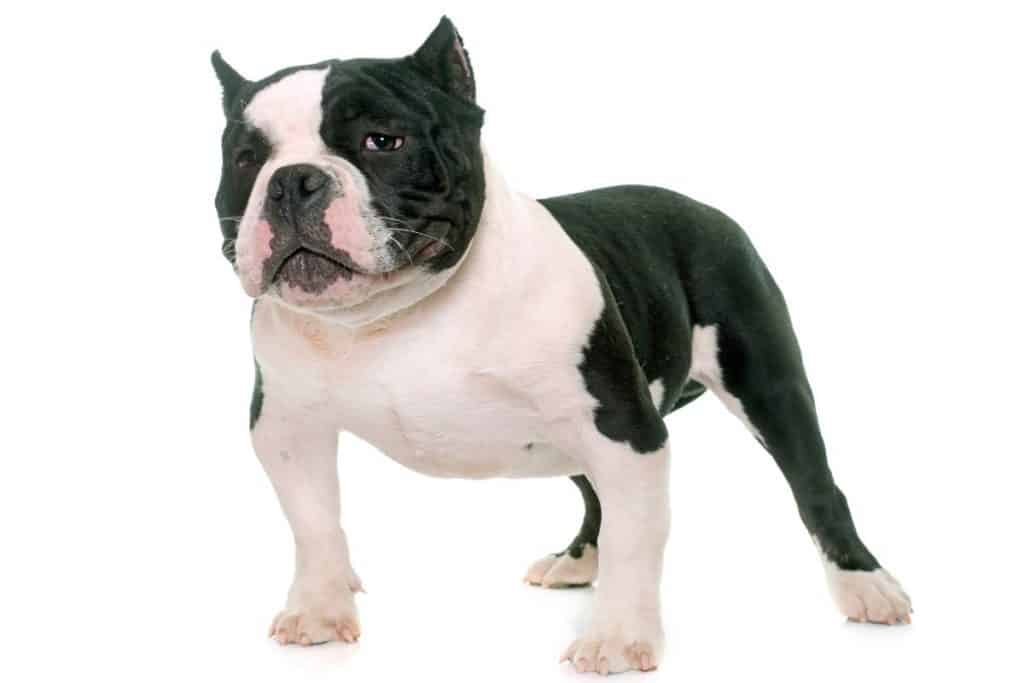 Health Certifications – Reputable breeders take full responsibility for the health of their stock before they are rehomed. They ensure that their pups undergo proper health screenings and get certified before sending them off with their new owners. These health screenings and certifications can be quite costly.
Training & Socialization –  Training and socialization are necessary preparations breeders make before their dogs meet their new owners. This makes the dogs more capable of adapting to new people and new environments. It also helps them become more manageable by their new owners. The training and socialization cost a substantial amount that goes towards the selling price of your Bully.
Breeder Standing – The breeder's reputation and standing can also influence the prices of their stock. The best breeders spare no expense to produce the healthiest and most well-mannered pups. It only makes sense that their selling prices would be pretty steep.
Class & Bloodline – As already discussed, the American Bully is classified according to size: standard, pocket, and XL. These variations in size have their respective price ranges due to the specific care requirements demanded by the distinct body mass types. 
What It Costs To Own an American Bully
As mentioned in the previous section, there are many factors that hike up the initial cost of an American Bully. This can drive the prices of your Bully up to $10,000–or even $20,000 for a high-quality bloodline. 
Even if you are able to pay the selling price, you also need to factor in the continual costs of owning an American Bully. In this section, I will break down the average lifetime cost of an American Bully into monthly and yearly averages. But first, the initial cost.
Initial Cost of Owning an American Bully
Bringing home a dog isn't like bringing home a new piece of furniture. Bringing home a baby would be the more fitting comparison. Let me count the ways. Like a baby, you will need to have a designated space for your pet. And that space should be pretty much furnished with feeding utensils, toys, a dog bed, grooming materials, and more. 
Here is a list of things you will need to have ready before bringing home your Bully:
Dog Food 
Feeding Bowls 
Leash/Collars 
Dog Crate 
Dog Bed 
Dog Toys 
Potty Tools: Poop Scooper and Doggy Bags
Grooming Essentials: Shampoo, Brushes, Nail Clippers, Dental Care Kit
Here is a tabulation of estimated expenses for the items mentioned above. The total bill might surprise you, so brace yourself. Take comfort in knowing that some of these items will only need to be bought once. The recurring monthly costs of raising a Bully will not look like this:
You can find these from your local pet stores or online sellers. You can also find cheaper alternatives to the recommended samples provided. With more affordable alternatives, your initial cost would probably average around $240 – $355. Add that amount on top of your Bully's buying price to total up the overall initial costs. 
Monthly Costs of Owning an American Bully
If you're feeling a little overwhelmed by the initial cost of an American Bully, rest assured that the recurring monthly expenses won't be anywhere near that amount. If you budget well, and assuming your Bully is in good health, you're looking at a total of $185-$305 per month. 
Here is the breakdown:
| | |
| --- | --- |
| Type of Expense | Average Price |
| Food & Treats | $80-$100 |
| Flea and Tick Control Medication | $10-$15 |
| Pet Insurance | $15-$50 |
| Vet Check-Ups  | $30-$50 |
| Grooming Services | $30-$60 |
| Miscellaneous Expenses | $20-$30 |
| Total Monthly Expenses | $185-$305 |
You can cut back on costs by using medicated shampoos to prevent flea or tick infections. You can also opt to groom your Bully at home instead of enlisting the services of a professional groomer. Your vet may not require monthly visits if your Bully is in generally good health. 
First-Year Cost of Owning an American Bully
The monthly costs may be steep, but wait until you total up the first-year costs. You'll understand why some breeders make it their business to know your emotional and financial readiness for owning an American Bully. 
The cost of vaccines, deworming, flea and tick medication, on top of vet fees, pet insurance, and neutering or spaying, will rack up quite the bill. First-Year costs can set you back anywhere from $4,800 to a whopping $12,600. 
Here's a breakdown:
| | |
| --- | --- |
| Type of Expense | Average Costs |
| Pet Insurance | $300-$600 |
| Vaccinations | $50-$100 |
| Deworming | $20-$30 |
| Flea & Tick Medication | $100-$200 |
| Veterinarian Fees | $300-$500 |
| Neutering/Spaying | $200-$250 |
| Total Yearly Expenses | $4,800-12,600 |
The good news is these costs could go down in the following years if your dog doesn't get fleas or ticks. Neutering and spaying are also not done every year. Some vaccinations are also not given yearly. This should bring down your expenses in succeeding years to an average of $1,920 to $2,940. 
Lifetime Expenses of Owning an American Bully
American Bullies have an average lifespan of 8-13 years. Taking the puppy's price, its average first-year cost, and the succeeding yearly expenses, multiplied by the average number of expected years of life, you're looking at around  $17,720 to $45,510 of expenses. However, this doesn't include costs for things such as pet daycare and medical expenses specific illnesses. 
It's every pet owner's nightmare to have their furry loved one become sick. But it's a reality we need to be prepared for. With age, Bullies become predisposed to hip dysplasia and infections such as the parvovirus. Medical expenses could reach $1,000 to $5,000. These costs can go down depending on pet insurance coverage. 
While pet daycare is an added expense that we would like to do without if we can help it, some circumstances are out of our control, and we could find ourselves having to skip town for a few days. This forces us to enlist the services of a pet daycare. For $20-$30 per day, you can leave town knowing your beloved Bully is in capable hands.
Conclusion
There you have it! Your ultimate guide to the economics of raising an American Bully. The breed is undeniably expensive to buy and undoubtedly even costlier to keep. However, true lovers of these loving dogs are willing to overlook their lifetime price tag of $45,500. After all, you can't put a price on the devotion and affection American Bullies give their families.